Clark University scholarships is another chance to live your dreams in USA. If you're searching for a scholarship that would be beneficial in many ways then you're at the right place.  
This modern research University is located in Worcester, Massachusetts. It's a private university that provides scholarships in USA to international students. 
Clark Scholarship includes 30+ advanced degree programs, and several merit and achievement-based scholarships depending upon criteria and courses.
Clark scholarship can help you pursue your dreams without financial worries. 
This blog can provide you with a clear roadmap to successfully apply and increase your chances of receiving an opportunity to study in USA. 
Here are the guidelines about USA study visa for Pakistani Students 
Clark University Scholarships
1. Benefits of Clark University Scholarships
2. Eligibility criteria for Clark University Scholarships in USA
3. How to apply for Clark University Scholarships
4. Deadline for Clark University Scholarships for International Students
5. Documents required for Clark University Scholarships
6. FAQs about Clark University Scholarships
1. Benefits of Clark University Scholarships
Clarks University provides mostly fully-funded scholarships. Some of it has grants, stipends or other types of assistance. Following are the main types of Clark University Scholarships 
 1.1 Presidential Scholarship
Presidential Scholarship is the most popular scholarship of Clark University. 
This scholarship at Clark University is given to approximately 5 students per year. 
It includes full tuition.

Presidential Scholarship at Clark University also provides On-campus room and board for all four years.
Note: Clark University's Presidential Scholarship requires additional essays in the admission application.
1.2 Richard Traina Scholarship
Richard Traina Scholarship scholarship is given to incoming students who have demonstrated unwavering dedication to leadership, academic excellence, and making a positive impact in their community.
Selected students get $28,000 each year.

Scholars will receive a $112,000 four-year award.
1.3 Robert Goddard Clark University Scholarship
Robert Goddard Scholarship is one of the prestigious scholarships for excellent students
An annual amount of the scholarship is $26,000

Qualified students receive a net value of $104,000 for four years.
Want to study in USA? Here is an ultimate guide to Knight Hennesy Scholarship 
1.4 Jonas Clark Scholarship
Jonas Clark Scholarship is also an important Clark University scholarship. It provides: 
Selected students get $84,000 for four years 

The amount of scholarship is $21,000  per year  
1.5 Scarlet Award Scholarship
This scholarship in USA provides an excellent chance to international students at Clark University. The benefits include:
Qualified students receive $64,000 for four years.

Scholars will get $16,000 annually
1.6 1887 Scholarship
1887 Scholarship is given to students who display potential and originality in their research and intellectual pursuits. 
Selected students receive the benefit of $52,000 for four years.

The annual amount is $13,000 
If You have any questions about any scholarship, you can also contact us for a live one-on-one session 
Whatsapp Contact: +393512735708″ 
2. Eligibility Criteria for Clark University Scholarship in USA 
Clark University provides a great opportunity to international students who want to get scholarships in USA. 
You have excellent academics and secondary education.

Applicants should possess strong personal qualities.

Every student is eligible for merit-based scholarships at clark University 

Students from all countries are eligible

Scholarships are available for all genders.
Note: All applicants for admission at Clark University will be automatically eligible for the above scholarships. However, Presidential Scholarship does require a separate application.  
Want to achieve a fully funded scholarship in the USA? Here is the ultimate guide for Fulbright Scholarship in the USA  
3. How to Apply for Clark University Scholarships
Here we brought Step-by-step guidelines for applying to Clark University Scholarships.
Application shortcut includes: 
Create an account > Fill in the registration form > Accept > Login > First-Year Common App > Fill in the application form > Review > Submit
3.1 Create an Account at Clark University Admission Portal 
You can Create an account at Clark University admission portal here.
See the screenshots
3.2 Fill in the Registration Form
To fill in the registration form you need to follow these steps 
Fill in the registration form with valid information.

Click on the

Continue

button

Read the terms and conditions carefully.

Click on the

Accept

button.
See the screenshots
3.3 Login with Your Account
After getting your account registered, you need to Login with relevant information. 
Firstly, You will get a Temporary pin at your email address. Then, you need to follow these steps: 
Fill in the

Temporary PIN

and

Birthdate

Click on

Login
See the screenshot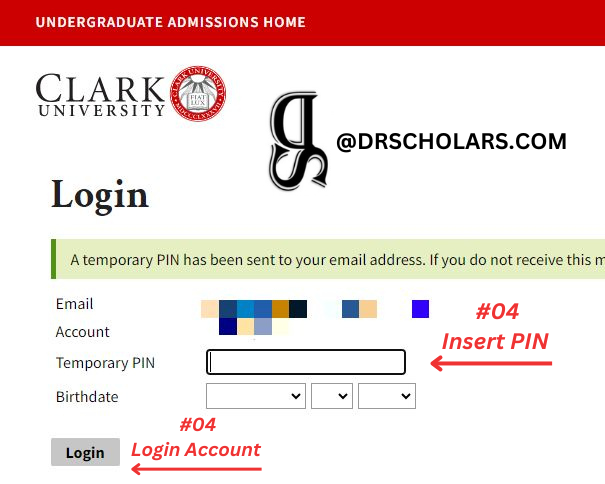 3.4 First-Year Common App
The application portal requires you to fill in the Common Application form.  
After clicking on it, you will be redirected to the Common App where Clark University will be automatically selected on the dashboard 
See the screenshot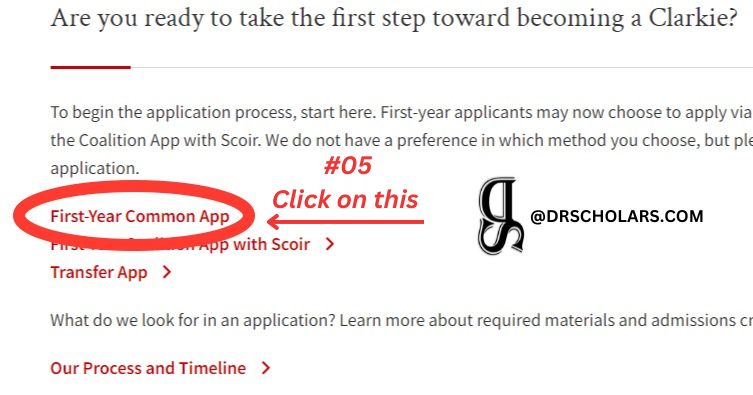 3.6 Fill in the Application Form
After getting your common app form, Fill in the application form.
If you want proper guidelines for filling admission application form through Common App check out Common Application Guide
See the screenshot 
3.7 Review and Submit Your Application
Review your admission application properly, and submit it. 
You can study at Harvard university with multiple scholarship opportunities, get the detail guide here!
4. Deadline for Clark University Scholarships for International Students
The Deadlines for Clark University Scholarships are as follows
Types of Application
Application Deadline
Notification Release

Early Decision

Nov 15

Late December

Early Action

Mid-January

Early Decision II

Jan 15

Early February

Regular Decision

Later March

Transfer – Fall Semester Start

Rolling February 1 – May 1

Rolling Within 4 weeks

Transfer – Spring Semester Start

Rolling Semester 1 – November 1

First-Year – Fall Semester Start
4.1 Additional Essays for Presidential Scholarship
Here are the deadline for additional essays for Presidential Scholarship at Clark University.
Type of Application
Application Deadline 
Announcement of Scholarship Approval

Regular Division

1 February

March 2023 

Early Action

1 Dec 2023

Early Division
You can study at Harvard University with multiple scholarship opportunities, get the detail guide here! 
5. Documents Required for Clark University Scholarships
5.2. Passport & National ID card
5.3. English Proficiency Proof (IELTS/TOEFL)
5.6. Research proposal/plan (Optional)
5.7. Statement of Purpose or Motivational Letter
5.8. Proof of Previous Work Experience (Optional)
5.1. Academic documents
This includes all your certificates & academic records like
A: Bachelor's transcript & certificate
B: Metric & FSC transcripts (10-12th Grade) (A level) (DMCs) and certificates (Supporting academic documents) 
C: Course summary (to explain your courses & how your previous courses & studies resemble your future studies to which you
are applying)
NOTE: All of the above documents should be attested by respective boards.
Also, attest them from the issuing authority of home countries. The respective university must attest university documents.
In the case of Pakistan, The documents mentioned above must be attested by IBCC, and MOFA (Ministry of Foreign Affairs).
IBCC authority is only responsible for the attestation of metric and inter documents.
Dear offices are present in Peshawar, Karachi, Lahore, Islamabad, and also in other cities of Pakistan.
5.2. Valid passport, Birth certificate & NIC
The passport of the applicant must contain at least one full blank page on both sides.
The passport must be valid at the time of visa application and on arrival to USA.
A birth certificate or national ID card is also important to attach.
5.3. English Proficiency (IELTS/TOEFL) for Clark University Scholarships 
Meeting the English language requirements set by clark university scholarships  is an important step toward achieving your bigger goal. 
Generally speaking, Students with IELTS 6.5 overall or TOEFL above 100, are considered good.
Nevertheless, these requirements may vary from course to course and degree to degree. 
5.4. Recommendation letters / Letters of Reference
The applicants must provide up to 3 letters of recommendation. from the previous university, (Depending upon courses).
It is advised to provide a letter of recommendation from the HOD (Head of the department or Relevant course head) who should be a Ph.D.
The referees need to write their contact details (Email, phone number) at the end of the letter.
The letter must include an official letterhead, signature, and official stamp and must be of the current date.
Ask your Referees to write about your academic achievements & discuss their confidence in you that you are fully compatible with the project or course you wish to pursue.
The referees must also mention how long they know the applicant & when was the last time they came in contact with the applicant.
.
5.5. CV
Europass CV can be easily made here.
The CV must contain all the latest & relevant information about your occupation & interests.
A perfect CV must be hand-signed.
Grab the quickest tricks to make a perfect CV for Jobs & Scholarships 
5.6. Research Plan / Proposal (Optional)
Research publications/ Achievements (conference papers, article review, abstract of thesis)
The research proposal is mostly required for postdocs or Ph.D. students. (Depends upon the courses)
It asks you to write about the research project you agree to complete with the assigned academic advisor.
Your research proposal should be a brief description of your research goals and objectives, the methods with which you wish to process that research, the outcomes you desire, the timeline and budget you have estimated, and the area of study you wish to explore.
It shall be a brief document yet explain the entire vision to the reader so that those analyzing your application could know of your objectives and grant you the scholarship if they match the program's criteria and eligibility.
Taking help from an external party is strictly prohibited and violation in this regard could lead to your disqualification no matter how incredible your proposal is.
Did you get stuck while drafting your research proposal? Check this detailed guide on Research proposals for Scholarship programs
5.7. Statement of Purpose or Letter of Motivation for Clark University Scholarship
Technically SOP (Statement of purpose) and LOM (Letter of Motivation) are the same things.
It's a Short biography to tell the panelist about yourself:
A letter of motivation or SOP could be a tricky part while applying for Scholarships in USA.
In this letter, you are asked to write about your personal and professional reasons why are you applying for a course & scholarship.
The maximum length of this letter is three pages, But it is advised to make it short & concise to one page. 
How to write a perfect letter of Motivation 
If you are interested in writing your LOM on one page concisely, then follow this exact method.
LOM consists of three parts. 
5.7.1. Introduction (one paragraph)
5.7.2. Body (3 paragraphs)
5.7.3. Conclusion (1 paragraph)
Let's explain these three things one by one.
5.7.1. Introduction:
Introduction is the gateway to the rest of the letter. Try to capture their interest in first few sentences. Be original & creative.
Make it personal & full of enthusiasm.
TIP: Try to initiate a story about yourself relevant to the scholarship you are applying & then expand it to the first paragraph of the body.
5.7.2. Body:
In the first paragraph of the body, try to tell about your relevant academic & experienced background to the course.
And your professional goals attached to the USA & Clark university. Share your expectations of the scholarship.
In the 2nd paragraph be more precise & focus on the specific achievement related to the scholarship & course.
In the 3rd paragraph expand on what you are currently doing & the interesting things you look forward to.
Here we brought everything about University of New Haven Scholarships in USA  
5.7.3. Conclusion:
Tell them why you are the best candidate for a scholarship in USA. Don't sound needy or use pompous language instead focus on why you deserve it.
Tell them how this scholarship will help you or the future of your community.
5.8. Experience letter
Applicant must provide an Experience letter of the previous jobs and internships.
Try to customize the work experience letter with future studies. Mention your job descriptions, work projects & the skills you learned through time.
The letter must be signed & verified by the Head or CEO of the company.
The work experience could be Paid,
Unpaid,
full-time,
part-time, or voluntary.
It could be done before, during, or after graduation.
5.9. Portfolios or workshops
It's optional. However, students can attach portfolios or workshops to support their cases for university admission or scholarship.
If you want to study in the USA with a scholarship, here is the guide for Yale University Scholarship 
6. FAQs about the Clark University Scholarships
6.1 Is IELTS/TOEFL mandatory for Clark University scholarships?
No, it is not mandatory to have IELTS or TOEFL while applying for undergraduate scholarships at Clark University. But you can improve your chances of selection by providing them. 
6.2 Does Clark University give full scholarships to international students?
Yes, Clark University does offer full scholarships to international students based on merit and financial need. It has Presidential Scholarship which is fully funded.
If you get a partially funded scholarship at Clark University, it may provide Grants Loans, or work-study opportunities as financial aid options.
. 
6.4. What are the selection criteria for Clark University for international students?
The selection process for international students at Clark University depends on  
secondary education 

Grades 

and the evaluation of your application 
With a strong application and academic background, you have good chances of getting admission at Clark University
6.5. How much is the value of a Clark University Scholarship? 
Approximately 60% of students receive merit-based scholarships. Students whose financial needs are greater than the scholarship may be eligible for additional assistance through a combination of Grant Loans, and information about need-based financial aid.  
If You have any questions about any scholarship, you can also contact us for a live one-on-one session 

Whatsapp Contact: +393512735708″