If you are planning to study in Germany? Then you must have heard of the DAAD scholarship!
Right?
DAAD is the world's largest organization, funding thousands of students every year to study in Germany.

Most students have queries about DAAD requirements and its eligibility criteria,
Some face problems with writing Motivational letters.
Some ask questions about whether DAAD offers any bachelor's scholarships or not.
Or
How to find out about any specific requirement of any particular program?
This updated DAAD scholarship guide will not only solve all your queries but will also discuss the perfect method to Ace the Letter of motivation.
How to stand out & outshine everyone.
It will teach you step-by-step how to fulfill the Daad application requirements
&
what are the do's and don'ts?
How to apply for a German study visa?

Dive in to burst your curiosity!
Go ahead and bookmark this ultimate Daad scholarship guide.
DAAD SCHOLARSHIP
3. Documents required for DAAD
4. Which countries can benefit from DAAD
Want to study in Germany for free? Here is Deutschland stipendium scholarship.
1. Daad scholarship Introduction:
1.1: What Is the DAAD?
DAAD

is an abbreviation of "Deutscher Akademischer Austauchdienst",

 

Which is a German academic exchange service program offering scholarships to students from across the world.
Since the foundation of DAAD, it has financed more than 2.8 million scholars across the globe.
The DAAD scholarship program was established by a student in Heidelberg with the motto, 'Change through Exchange'.
But DAAD has grown considerably in the previous decade, funding almost 150,000 students every year with an annual budget of half a billion euros.

Most of the money they invest in the DAAD scholarship programs comes from public funds (the European Union and the Federal Government).
No matter where the funding comes from, DAAD remains an independent organization.
1.2. DAAD Offices:

 
DAAD's main headquarter is in Bonn, (Germany) and a branch in Berlin, but the network of DAAD expands across the globe.
Eighteen regional offices and fifty-one information centers spread across sixty different countries across the globe.
So, no matter what part of the globe you live in, chances are that you can easily find a DAAD office nearby.
The DAAD representatives are available in most parts of the world, offering quick and free counseling to students.
Students can always get in touch with one of the nearest DAAD representatives and get to know about the scope and process of DAAD scholarships without hassle.
Here you can find the list of all the DAAD offices across the globe!
Here is everything you want to know about Chevening Scholarship UK.
2. Benefits of DAAD scholarship


The benefits & coverage provided by DAAD scholarships vary from program to program.
It generally depends on two factors
1. Applicants' academic qualification
2. The study or research program they choose
However, An ideal DAAD scholarship may include
 1. For Master's program it offers 861 € per month while postdocs and doctoral candidates, offer up to € 1,200. Some Fellowship installments are even 1,760 euros per month.
2. For lecturers, assistant professors, and assistant teachers, the amount upgrades to 2,000-2400 euros per month while the professors and teachers or senior scientists can get coverage of an estimated € 2,150 to 2760 euros per month.
3. In many cases, DAAD scholarships also cover health insurance (Accident & Personal liability), & travel insurance.
4. The Ph.D. students may also get additional research grants. Family benefits, funding incentives & grants for language courses are also offered by some programs.
5. Most importantly if you get a DAAD scholarship, you don't need to make a Block account.
This could be a huge problem for international students while applying for a Germany study visa.

Due to the recent inflation in prices, many European scholarships LIKE DSU, EDISU, etc have increased their grants. It is also possible that DAAD might do it too. However, until now no such action has been taken.
Applicants can check the detailed coverage of each DAAD scholarship program from the
funding guide.
Check the Commonwealth scholarship guide.
Want to study in Germany? Here is the Step by step process for the SBW Berlin scholarship.
3. Documents required for DAAD scholarship
1. Filled & signed Application for DAAD scholarship
7. IELTS / TOFEL (if applicable)
8. Research proposal (if applicable)
12. Portfolios or workshops (in some cases)

Check a detailed guide about Italy DSU scholarship.
Check a detailed guide about Italy EDISU scholarship.
3.1. Filled & signed application for DAAD
DAAD application form can be found under "Application Procedure".
How to fill DAAD Application? 
Students can fill & submit the DAAD application form in the following ways.
NON-EU Applicants:
If the applicant is from a NON-EU country, then they should first check whether their desired German university is a member of uni-assist or not.
if the university is part of UNI-assist, then they should apply through "UNI-assist.de".
This website will later inform them that they need to register on  "Foundation of higher education admission".

2. If the university is not a part of Uni-assist, then the applicant must send the application directly to the chosen university.
3. Remember applicants of some degree programs like "pharmacy, Medicine, Veterinary medicine dentistry, etc. will directly send their application to the university.
Because such programs come under "Central Numerous Clausus".  These applicants will be asked to pass certain admission tests due to a limited number of seats.
EU APPLICANTS:


If the applicant is from EU countries or Liechtenstein or Norway, Iceland, etc, then first they should see if the university is a member of DOSV (Dialogue-oriented service procedure)-(Dialogorientiertes Serviceverfahren).

If yes then they should apply through

"Foundation of higher education admission

, If not then they need to send their application directly to the university.
EU Applicants who want to apply for degree programs like "pharmacy, Medicine, Veterinary medicine, dentistry, etc will directly send their application through "Foundation of higher education admission".

3.2. Academic documents
This includes all your certificates & academic record like
A: Bachelor's transcript & certificate (If a student is applying for a master's)
B: Master's transcript & certificate (if the student is applying for Ph.D.)
C: Metric & FSC transcripts (10-12th Grade) (A level) (DMCs) and certificates (if the student is applying for Bachelors)
D: Course summary (to explain your courses & how your previous courses & studies resemble your future studies in which you are applying)
NOTE:
In the case of Pakistan, The above-mentioned documents must be attested by IBCC, HEC, and MOFA (Ministry of Foreign Affairs).
IBCC authority is only responsible for the attestation of metric and inter documents.
Dear offices are present in Peshawar, Karachi, Lahore, Islamabad, and also in other cities of Pakistan.
HEC office attests bachelor's, master's, and Ph.D. documents.
Other countries need to attest their documents from the respective local ministries & authorities.
3.3. Letter of Motivation for DAAD
Letter of motivation is the tricky part of DAAD scholarship. In this letter, you are asked to write about your personal and professional reasons why are you applying for the particular DAAD scholarship.
The maximum length of this letter is three pages, as defined by DAAD.
But it is advised to make it short & concise to one page.
in this Daad scholarship guide, we will go into detail on how you can ace a motivational letter.
Letter of Motivation must highlight three things.
1. Academic background: (Elaborate on the study & relevant internships/jobs )
2. Academic motivation: (Explain why you picked the scholarship & why you are eligible)
3. Personal interests:  (Your relevant achievements & hobbies)
TIP:
Before starting the letter of motivation, Do your homework properly.
Do thorough research on your host German university,
the courses which you are applying for & the scholarship which they are offering.
How to write a perfect letter of Motivation for DAAD in ONE PAGE?
If you are interested in writing your LOM on one page concisely, then follow this exact method.
LOM consists of three parts.
1. Introduction (one paragraph)
2. Body (3 paragraph)
3. Conclusion (1 paragraph)

Let's explain these three things one by one.

1. Introduction:
Introduction is the gateway to the rest of the letter. Try to capture their interest in first few sentences. Be original & creative.
Make it personal & full of enthusiasm.
TIP: Try to initiate a story about yourself relevant to the scholarship you are applying & then expand it to the first paragraph of the body.
2. Body:
In the first paragraph of the body, try to tell about your relevant academic & experienced background to the course.
And your professional goals attached to the Germany & university. Share your expectations of the scholarship.
In the 2nd paragraph be more precise & focus on the specific achievement related to the scholarship & course.
In the 3rd paragraph expand on what you are currently doing & the interesting things you look forward to.
3.

Conclusion:
Tell them why you are the best candidate for this scholarship. Don't sound needy or use pompous language instead focus on why you deserve it.
Tell them how this scholarship will help you or the future of your community.
Tips for Letter of Motivation:
Don't repeat what you have already written in your CV introduction or cover letter. Try to capture their interest in the first paragraph.

Try to stick to one theme, don't jump around ideas. Be specific.

 

DAAD administration gets thousands of motivational letters, so it is advised to not write a very lengthy letter.

 

It shouldn't cross 2 pages. In fact, I will advise you to write one page.
Share ideas shortly, you will later have time to expand on them in an interview.

Your LOM should answer, Why do you apply for the selected master's program? Which of the courses offered in this program are particularly beneficial in pursuing your professional goals?
4. Make sure your letter of motivation is well-composed. First, reflect on all the above questions, take notes, read more, and discuss with friends. Then write an outline. Then write the text. 
5. Apply an appropriate style of writing. It could be a little informal but factual. Somewhere in between academic & informal, but avoid flattery, verbose & bombast language & phrases.
6. Do not campaign for your beliefs. 
6. Proofread the text and delete all dispensable and redundant parts. In the end, your letter of motivation should comprise not more than two pages.

Official instruction about DAAD letter of motivation:
Instructions about Letter of motivation for Pakistani & all international students
Letter of motivation sample & instruction for African students
Here is our detailed guide about Great scholarships UK.
3.4. Letter of Recommendations for DAAD
The applicants must provide 2-3 letters of recommendation from the previous university, (Depending upon courses).
It is advised to provide a letter of recommendation from the HOD (Head of department or Relevant course head) who should be a Ph.D.
The referees need to write their contact details at the end of the letter. 
The letter must include an official letterhead, signature, and official stamp and must be of the current date.
Ask your Referees to write about your academic achievements & discuss their confidence in you that you fully compatible in the project or course you wish to pursue through DAAD. 
3.5. Europass Cv
Europass CV can be easily made here.
The Cv must contain all the latest & relevant information about your occupation & interests.
A perfect CV must be hand signed. 
3.6. German Language skills
It strictly depends on the programs. If the study course is in the German language then the scholarship may include a preparatory 6-month German language course.
A minimum German language level of B1 at the time of application is a requirement, that needs to be proofed by providing a current certificate.
3.7. IELTS or TOFEL
In order to prove your English proficiency, IELTS is compulsory in almost all English-taught courses in Germany.
IELTS certificate with a minimum Band 6,  or TOEFL (minimum score: 550 paper-based, 213 computer-based, 80 internet-based) is required.
However, Some courses may expect a different level. For detailed information please see the requirements of the relevant courses.
Before taking the TOFEL test make sure you check whether TOFEL is aligned with the course or not.
Check our guide on how to score 7 bands in IELTS.
3.8. Research Proposal
The research proposal is mostly required for postdocs or Ph.D. students. (Depend upon the courses)
It asks you to write about the research project you agree upon completing with the assigned academic advisor.
Your research proposal should be a brief description of your research goals and objectives, the methods with which you wish to process that research, the outcomes you desire, the timeline and budget you have estimated, and the area of study you wish upon exploring.

It shall be a brief document yet explain the entire vision to the reader so that those analyzing your application could know of your objectives and grant you the scholarship if they match the program's criteria and eligibility.
Taking help from an external party is strictly prohibited and violation in this regard could lead to your disqualification no matter how incredible your proposal is.
3.9. Experience letter
Applicant must provide an Experience letter of the previous jobs & Internships.
Try to customize the work experience letter with future studies.
Mention your job descriptions, work projects & the skills you learned through time.
The letter must be signed & verified by the Head or CEO of the company. 
3.10. Re-Employment letter
It's not compulsory. However, a letter from the employer/Company/Professor that they will hire you back after the completion of your course can be beneficiary in a few cases.
3.11. University application
It sounds obvious. To get the benefits of the DAAD scholarship, the applicant must choose a specific course & university.
3.12. Portfolios or workshops
In some particular cases like "Architecture", the applicant must submit portfolios of their work to the DAAD media database. Check details here.
Please Check Daad subject specific requirements.
For DAAD country admission requirements, check the database.
TIP: Always ask the International Office of your host university that whether you fulfill the requirements or not.
because at the end they will decide your application.
Want to get a fully funded scholarship to Germany? Learn about DAAD EPOS (Development-Related Postgraduate Courses)
4. Countries that can benefit from DAAD scholarship:
Almost all countries can get benefits from DAAD scholarships.
There are a lot of opportunities for developing countries.
specifically, The In-Country/In-Region Scholarship Programme supports academics in the regions of Africa, Central and South America, the Middle East, South and Southeast Asia.
These scholarships are provided for students of Bachelor's, Masters, Ph.D. & postdocs.
The applicant can also use the  Database on admission requirements which is currently filled with information from 140 countries to check their entrance qualification.
It will tell you whether you are eligible or not.
Plus which type of admission (subject-related or general) is required to study in Germany? 
Even more detailed information on all countries can be found in the information portal on foreign qualifications (anabin) (only in German language).
EPOS DAAD is another famous scholarship for developing countries, like Pakistan, India, Bangladesh, and African countries.
Epos is short for "Entwicklungsbezogene Postgraduierten Studiengänge" (development-related postgraduate courses)
Check the List of eligible countries for EPOS DAAD.

Wondering, how to apply for DAAD Helmut Schmidt Scholarship for Public Policy & Good Governance. Click here.
5. Courses DAAD scholarship offer:
Currently, there are 1699 programs for international students in Germany that are exclusively taught in English.
More than 150 courses are offered in the German language, while more than 200 courses are offered in combined language (English+ German).
students can check this Database for their courses.

check the screenshot.

Every type of course from studying "Art & Music" to Engineering, economics, agriculture, medicine, law & management.
Every kind of study is available.
Empower yourself with a USA Fulbright scholarship.
6. DAAD scholarship method of selection:
DAAD  method of selection is pretty straightforward, 
1. It normally starts with a written application, along with a CV, Certificates, & all the list 12 documents which are discussed above in detail.
2. If your application is successful, in the second phase you will be invited to an interview or an evaluation round with other applicants.
However, Every scholarship provider can change the criteria of selection or application procedure. It may require group discussions, presentations, or workshops in a few cases. 
but as a whole the general selection method is above.
7. How to apply for DAAD scholarship
Here is the step-by-step process of how to score a DAAD scholarship.
Before looking for a DAAD scholarship, first, check whether your university or your previous courses are recognized in Germany or not. Or you have to do some extra recognition or tests.

For institutions checking go to the

Anabin

> Institutionen > Suchen > put your country name and all the registered institutions will appear.
see the screenshot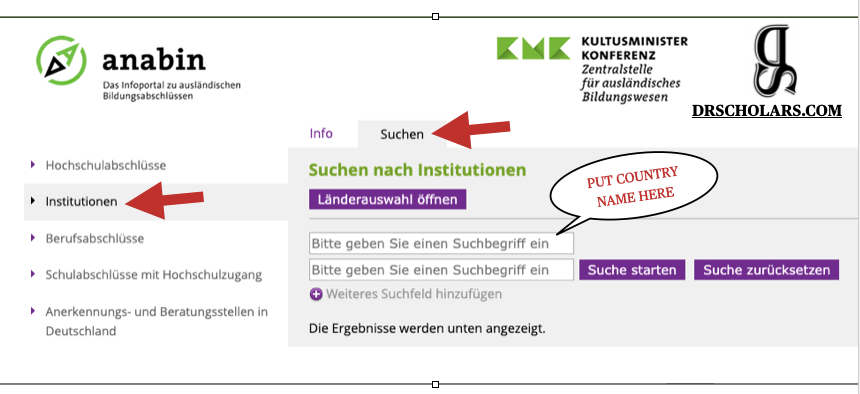 For course checking go to the Anabin > Schulabschlüsse mit Hochschulzugang > Suchen
see the screenshot
The website is in German language but international students can use Google translate
2. Fulfill the requirement of 12 documents, which are discussed above in detail. (Academic documents, CV, LOM, Experienced letters, Reference letters, IELTS, etc).
3. Go to the DAAD scholarship database & fill it according to the needs of your country, Course, and academic requirements.
Read carefully the criteria of specific scholarships. Check whether you need to submit any extra documents or not. (Specifically in the case of Architecture or Art etc)
Applicants can also apply for summer schools & internships.
Fill out the application form and apply for the scholarship by the

method discussed above in detail.

Applicants can apply for three courses at a time.
This pdf may be helpful in a few cases (Mostly for European students) on how to submit applications through the online DAAD portal.
8. DAAD scholarship for Bachelors:
DAAD scholarships are mostly aimed at Graduates (Masters), doctoral students, and postdocs.  In some programs, internships are also funded.
However, there is a way that bachelor's students (Undergraduates) can find scholarships for themselves.
These scholarships are very country-specific, sometimes these scholarships are only for women or very specific European countries or suffering countries like Afghanistan or Ukraine, etc so make sure you read the whole criteria while applying for it.
These two links will help you find the exact same search.
9. DAAD scholarship Application Deadline
In most cases,
For the winter semester, the deadline for the DAAD scholarship is mostly 15 July,
and 
For the summer semester, The deadline is 15 January.
However, it is advised to recheck the deadlines with the chosen university & course supervisors, because they can vary.
10. DAAD scholarship contact
In case of any technical error:
students can email the head office postmaster@daad.de
Or call through Tel.: +49 228 882-0
If there are any specific questions related to research or study, students can fill out this form
If there is a technical problem with the website students can fill out this form.
11. FAQS about DAAD Scholarship
11.1. If I am applying to 3 courses. Do I need to write three Motivational letters for the DAAD scholarship?
Technically, NO.  I will advise you to write one motivational letter but explain to them why you are applying for these specific courses and why you chose that priority. The reason should be clear & concise.
11.2. I don't have my academic certificate yet, can I still apply for DAAD?

 
There are a few cases where DAAD may allow students to send their academic certificates later after sending the application.
Maybe a "Hope certificate" from the university could help in certain scenarios. However, it strictly depends on the course's criteria. So always recheck with your host institution in Germany.
11.3.How many programs can I apply for at the same time for DAAD?
You can apply for a maximum of three programs.
11.4. Is there an age limit for DAAD?
No, There isn't. However, the latest academic degree should not be older than 6 years.
11.5. Where can I find the DAAD application from?
DAAD application form can be found under "Application Procedure".
11.6. While submitting my DAAD Application, Where should I send additional documents?
It is advised to submit complete applications & in case of additional documents send them to your host university in Germany directly instead of DAAD.
Because DAAD is not able to send your remaining documents to your departments.
11.7. Where can I learn about the status of my DAAD application?
The applicants will be informed, according to the course they have applied for.
If something isn't clear, Please don't hesitate to ask us any further questions in the comments.