SBW Berlin Scholarship is a highly advanced program offered to aspiring students from underprivileged backgrounds with full funding.
The scholarship in Germany provides valuable experience and professional excellence to scholars. 
 The SBW Berlin Scholarship offers various courses for undergraduate and graduate degrees to study in Germany.
The scholarship provides international students with a platform to promote social action plans and projects in their home country. 
 This Scholarship in Germany aims to promote cultural exchange and international support to developing regions. It gives a monthly stipend, tuition fee, accommodation as well as travel allowance.
The article is giving a detailed guide about this fully funded scholarship, including benefits, eligibility criteria, required documents, application procedure, etc.  
So, Let's jump into it!  
If you have any questions related to a German study visa, Our Ultimate German study visa guide could solve your problems. 
 

SBW Berlin Scholarship
1. Benefits of the SBW Berlin Scholarship
2. Eligibility Criteria for SBW Berlin Scholarship
3. Required Documents for SBW Berlin Scholarship
4. How to Apply for SBW Berlin Scholarship
5. Selection Criteria for SBW Berlin Scholarship
6. Deadlines for SBW Berlin Scholarship
7. FAQs About SBW Berlin Scholarship
Want to know about another fully funded scholarship to Germany? Learn about DAAD EPOS (Development-Related Postgraduate Courses)
1. Benefits of the SBW Berlin Scholarship

 
If you're coming from a low-income background, This Scholarship is going to fund a good amount for you. The benefits usually apply during course period that differs from program to program.  
A travel allowance for coming to Germany and after completion of the program for returning the home country

 

Accommodation will be provided in shared student flats in Berlin

 

A monthly stipend of 480 euros (516 USD) will be given

 

The tuition fee will be waived for the whole program

 
After coming to a shared flat in Berlin, the first payment of allowance will be provided to scholars.
If you want to study in Germany for free, find out our detailed guide about the DAAD scholarship.
2. Eligibility Criteria For SBW Berlin Scholarship

 
Being one of the excellent scholarships in Germany, It is highly competitive. To get successful in the prestigious scholarship you must meet the following eligibility criteria;
  
The candidate must have age between 18 to 30 years at the time of application

 

They must have volunteer or professional experience in any NGO or Non-profit sector.

 

Must be a citizen of an underdeveloped country or a country that is in need of assistance to develop its socio-economic condition.

 

A holder of EU residency, settlement permit, or recognized Refugee can apply
Must have the motivation to serve the home country after completing the program in Germany

 

No close family member is a resident of Germany

 

Must prove net low-income evidence

 

Applicant's grades must be a minimum of 2.0-grade points according to Germany's scoring system

 

Candidate must not have resided in Germany in the last 18 months before the application

 
Note: Students who are getting any other funding to study in Germany are not eligible for SBW Berlin Scholarship    
2.1. Eligible Universities for SBW Berlin Scholarship
There is the list of eligible universities for the SBW Berlin Scholarship: 
| | | |
| --- | --- | --- |
| S.No | Name of University  | City  |
| 01  | | Berlin  |
| 02 | | Berlin |
| 03 | | Berlin |
| 04 | | Berlin  |
| 05 | | Berlin  |
| 06 | | Potsdam  |
| 07 | | Berlin  |
| 08  | | Potsdam  |
| 09 | | Potsdam  |
Read about step by step process of UAL postgraduate scholarship in the UK.
3. Required Documents for SBW Berlin Scholarship

   
3.3. Passport & National ID card
3.4. English Proficiency Proof (IELTS/TOEFL)
3.7. Hope certificate (If applicable)
3.8. Research proposal/plan (Optional)
3.9. Statement of Purpose or Motivational Letter
3.10. Proof of Previous Work Experience (Optional)
If you want to study in Italy for free, find out our detailed guides about DSU and EDISU scholarships.

3.1. SBW Application Form

 
The SBW Scholarship application is to be filled out on the official portal. You can find the application form here. 
3.2. Academic documents
This includes all your certificates & academic record like
A: Bachelor's transcript & certificate
B: Master's transcript & certificate (if the student is applying for 2nd Master's or fellowship)
C: Metric & FSC transcripts (10-12th Grade) (A level) (DMCs) and certificates (Supporting academic documents)
D: Course summary (to explain your courses & how your previous courses & studies resemble your future studies to which you are applying)
NOTE:
All of the above documents should be attested by respective boards.
Also, attest them from issuing authority of home countries. The respective university must attest university documents.
In the case of Pakistan, The documents mentioned above must be attested by IBCC, HEC, and MOFA (Ministry of Foreign Affairs).
IBCC authority is only responsible for the attestation of metric and inter documents.
Dear offices are present in Peshawar, Karachi, Lahore, Islamabad, and also in other cities of Pakistan.
HEC office attests to bachelor's, master's, and Ph.D. documents.

3.3. Valid passport, Birth certificate & NIC
The passport of the applicant must contain at least one full blank page on both sides.
The passport must be valid at the time of visa application and on arrival to Germany.
A birth certificate or national ID card is also important to attach.
Want to study in Japan for free? Check our ultimate guide about MEXT Scholarship Japan.

3.4. English Proficiency (IELTS/TOEFL) for SBW Berlin Scholarship

 
A language proficiency certificate must be internationally recognized. The language certificate must be provided for the language in which you are going to pursue the course. If you are applying to an English-taught program you have to provide IELTS or TOEFL.
Generally speaking, Students with IELTS 6.5 overall or TOEFL above 100, are considered good.
Nevertheless, these requirements may vary from course to course and degree to degree. 
3.5. Recommendation letters / Letters of Reference
The applicants must provide up to 2 letters of recommendation. from the previous university, (Depending upon courses).
It is advised to provide a letter of recommendation from the HOD (Head of the department or Relevant course head) who should be a PhD.
The referees need to write their contact details (Email, phone number) at the end of the letter.
The letter must include an official letterhead, signature, and official stamp and must be of the current date.
Ask your Referees to write about your academic achievements & discuss their confidence in you that you are fully compatible with the project or course you wish to pursue.
The referees must also mention how long they know the applicant & when was the last time they came in contact with the applicant.
If you want to study in the UK for free, find out our detailed guides about Chevening and Commonwealth scholarships.
3.6.

 

CV
Europass CV can be easily made here.
The Cv must contain all the latest & relevant information about your occupation & interests.
A perfect CV must be hand signed.
3.7. Hope certificate (If applicable)
If the final transcript isn't ready then students can apply with a Hope certificate from their university.
However, they must be graduated before their arrival in Germany. 
(Please make sure you contact your university in this regard )
What is Hope's certificate?
In simple words, It is a certificate based on the previous semester's performance, that indicates that the candidate will pass the final exams with excellent results.
3.8. Research Plan / Proposal (Optional)
Research publications/ Achievements (conference papers, article review, abstract of thesis)
The research proposal is mostly required for postdocs or PhD students. (Depend upon the courses)
It asks you to write about the research project you agree upon completing with the assigned academic advisor.
Your research proposal should be a brief description of your research goals and objectives, the methods with which you wish to process that research, the outcomes you desire, the timeline and budget you have estimated, and the area of study you wish upon exploring.
It shall be a brief document yet explain the entire vision to the reader so that those analyzing your application could know of your objectives and grant you the scholarship if they match the program's criteria and eligibility.
Taking help from an external party is strictly prohibited and violation in this regard could lead to your disqualification no matter how incredible your proposal is.

If you want to study in Hungary for free, find out our detailed guide about the Stipendium Hungaricum scholarship.
3.9. Statement of Purpose or Letter of Motivation
Technically SOP (Statement of purpose) and  LOM (Letter of Motivation) are the same things.
It's a Short biography to tell the panelist about yourself:
A letter of motivation or SOP could be a tricky part while applying for Scholarship. 
In this letter, you are asked to write about your personal and professional reasons why are you applying for a course & scholarship.
The maximum length of this letter is three pages, But it is advised to make it short & concise to one page.
How to write a perfect letter of Motivation
If you are interested in writing your LOM on one page concisely, then follow this exact method.
LOM consists of three parts.
3.9.1.  Introduction (one paragraph)
3.9.2.  Body (3 paragraphs)
3.9.3. Conclusion (1 paragraph)
Let's explain these three things one by one.


3.9.1. Introduction:
The introduction is the gateway to the rest of the letter. Try to capture their interest in the first few sentences. Be original & creative.
Make it personal & full of enthusiasm.
TIP: Try to initiate a story about yourself relevant to the scholarship you are applying for & then expand it to the first paragraph of the body.
3.9.2.

 

Body:
In the first paragraph of the body, try to tell about your relevant academic & experienced background to the course.
And your professional goals attached to the Scholarship. Share your expectations of the scholarship.
In the 2nd paragraph be more precise & focus on the specific achievement related to the scholarship & course.
In the 3rd paragraph expand on what you are currently doing & the interesting things you look forward to.
3.9.3. Conclusion:
Tell them why you are the best candidate for the Scholarship. Don't sound needy or use pompous language instead focus on why you deserve it.
Tell them how this scholarship will help you or the future of your community.
3.10. Experience letter
Applicant must provide an Experience letter of the previous jobs & Internships.
Try to customize the work experience letter with future studies.
Mention your job descriptions, work projects & the skills you learned through time.
The letter must be signed & verified by the Head or CEO of the company.
The work experience could be Paid,
Unpaid,
full-time,
part-time, or voluntary.
It could be done before, during, or after graduation.

If you want to study in Germany for free, find out our detailed guide about the DAAD scholarship.
3.11. Portfolios or workshops
It's optional. But students can attach portfolios or workshops to support their cases for university admission or scholarship.
If you want to study in China for free, find out our detailed guide about Chinese government scholarships.


3.12. Project Description
A project idea must be presented to the SBW Scholarship Board. The project must be non-profit and helpful in the development of the social condition of the home country.
It must mention a concise overview of the idea you want to pitch, the target group, and goals on a long-term and short-term basis. 
The project description for the SBW Berlin scholarship must be 2-5 pages. Project description is a crucial part of the selection, so be creative and professional on it.
You can get the specific structure for Non-Porfit Project here.
3.13. Income proof
If you have a lower household income, you can provide proof of income in the scholarship form. You can attach any evidence of it e.g. payslips, pension notices or bank statements. 
Note: You must attach the documents in English or German Language. If your documents are not in these languages must show a translated document with it. All the documents must be in PDF format.
Read about the Fully funded Singapore International Graduate Awards.
4. How to Apply for SBW Berlin Scholarship

 
Generally, the application process is where we all get confused before applying. But the following steps to apply for SBW Berlin Scholarship will make your application easier.   
You can apply for the SBW Berlin Scholarship accordingly; 
Apply to University > Craft a social project > Visit Online Portal > Fill in Basic Information> Family details> Academic detail > Attach required documents > Review > Submit  
4.1. Apply to University

   
Before starting an application for SBW Scholarship, you have to apply on the university's website for your desired program. You can apply and receive a conditional offer letter from the university.
Note: If you haven't received a university admission letter, just mention the name of the university you've applied. 
4.2. Visit the Online Application Portal

 
Firstly, you need to visit the Online portal. You can recheck all the requirements given on the website.  
Start the Application form there.
See the screenshot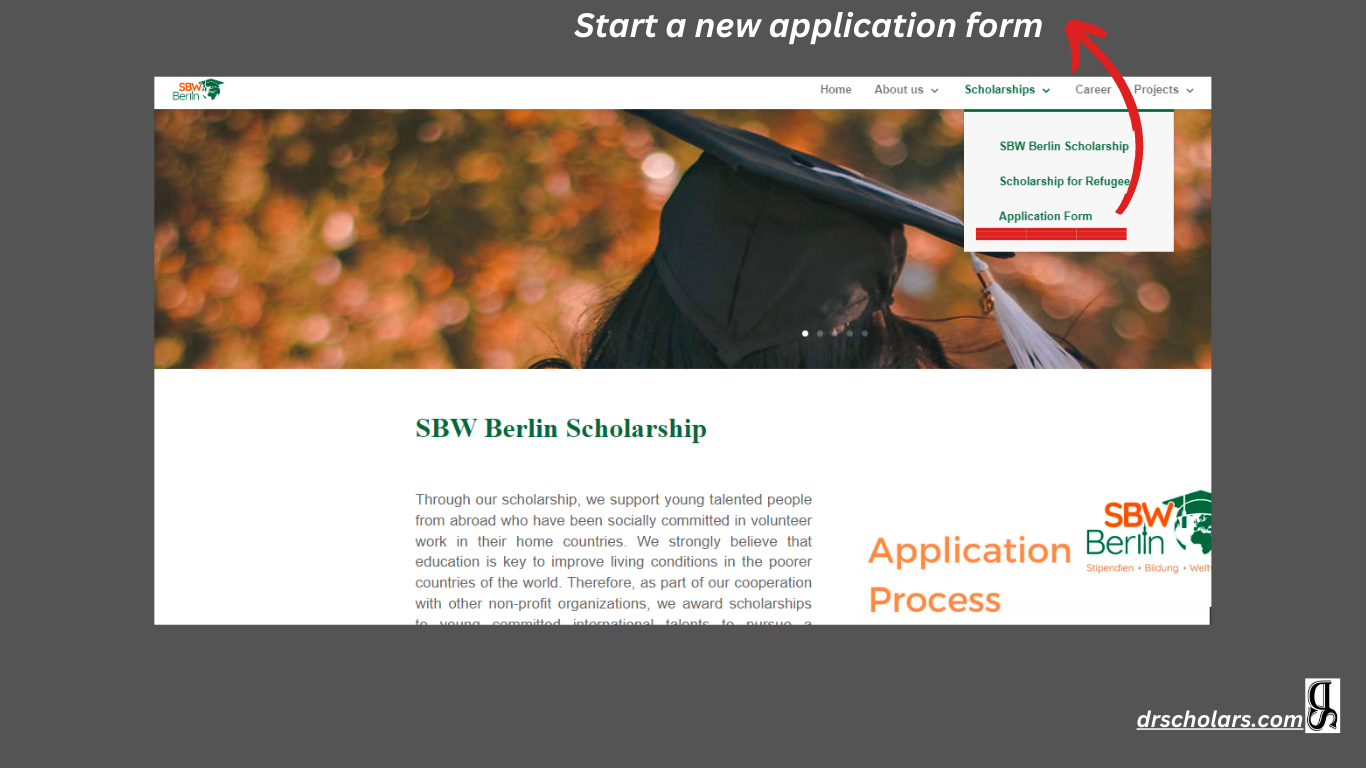 4.3. Add Basic Information

 
On the first step of the SBW application form, you are asked to fill in basic information about your identity. 
See the screenshot 
4.4. Fill in Required Information

 
After filling in the basic details, you need to add your family details which include your parent's identity, their jobs, sibling details, and household income.   
On the next pages, you can provide academic details, professional experience, volunteer work, and social projects.  
See the screenshot 
4.5. Attach Documents

 
After filling out the entire form, you have to attach the documents. Details of each document are mentioned above. You can upload these documents in respective sections. 
4.6. Review & Submit

 
Finally, review the Application and Submit it in the portal.
Everything you want to know about Shanghai government scholarship.
5. Selection Criteria for SBW Berlin Scholarship

 
The selection process is being done within 2 months after application submission. There are some criteria to follow up for the selection of a candidate. 
5.1. Need for Assistance

 
The candidate's household income will evaluate whether he/she needs assistance (According to the German Education Assistance Act). 
 You need to provide each detail including any investments, property income, pensions etc.
5.2. Applicant's Profile

 
The overall profile includes academic excellence,  professional experience, strength to meet scholarship requirements, social activities, etc. The interviews and task assessments will be included in the candidate's profile.
5.3. Non-Profit Project

 
The project that you've proposed must be concise and contain a unique and helpful idea. It will be evaluated in different aspects e.g. its relevancy with your country, timelines, targeted goals, documentation, and structure.
After, getting shortlisted in the first phase you will be mailed for an interview or online conference. In the second phase, non-profit projects will be discussed.  
Finally, the selected candidates will be asked for a verification process.
Wondering, how to apply for DAAD Helmut Schmidt Scholarship for Public Policy & Good Governance. Click here.
6. Deadlines for SBW Berlin Scholarship

 
 The call for SBW Berlin Scholarship is announced two times a year.  
The first call is from 15 November to 31 December. While the second call is from 15 May – 30 June.
Find out about the step-by-step process of Korean Government scholarship.
7. FAQs about SBW Berlin Scholarship
7.1. Which countries are eligible for SBW Berlin Scholarship?

 
All under-developed countries are eligible for the scholarship. Countries from the following regions are preferred; 
South America

 

Asia

 

Eastern Europe

 

Africa

 
However, Internationally recognized refugees and residents of EU AND EEA countries are also eligible.
Want to study in UK for free? Here is step by step process for Gates Cambridge scholarship.
7.2. Can I apply without IELTS/TOEFL?

 
Yes, you can apply without these International Language scores. But, you might be asked during the verification process to provide any relevant language certificate.
7.3. Is there any application fee for SBW Berlin Scholarship?

 
No, there is not any application fee charged by SBW Berlin Scholarship. However, you might be asked by the university before applying for admission.  
Want to study at Oxford University for free? Learn about the Rhodes scholarship.
7.4. Is it necessary to get certified translations of the documents for the SBW scholarship?

 
No, certified translation of documents is not necessary at the time of application. But the selection committee can ask during the verification process. 
7.5. Can I apply for SBW scholarship without an admission letter from University?

 
Yes, You can apply without an admission letter but might be asked to provide it later.
Here is our detailed guide about Netherlands Government scholarships.
7.6. Is it mandatory to provide an experience letter and project for undergraduate applicants?

 
No, Applicants of Undergraduate are allowed to apply without an experience letter and non-profit project.
Here is everything you want to know about Turkey Burslari Scholarships.
8. Conclusion

 
The SBW Berlin scholarship is a prestigious chance to study in Germany. It is providing a wealthy amount to learn and gain professional experience in the top-ranked universities of Berlin & Potsdam. 
The scholarship program is offered to underprivileged students. It offers undergraduate and master's programs to scholars. It is a fully funded scholarship in Germany. 
If you are finding the right path to grow in your career, just check out the details of the SBW Berlin scholarship mentioned above and Apply now.
Want to study in KSA for free, here is everything you want to know about King Abdul Aziz scholarship.
We cover everything in detail, but if you still have any questions, don't hesitate to ask us in the comments.